Back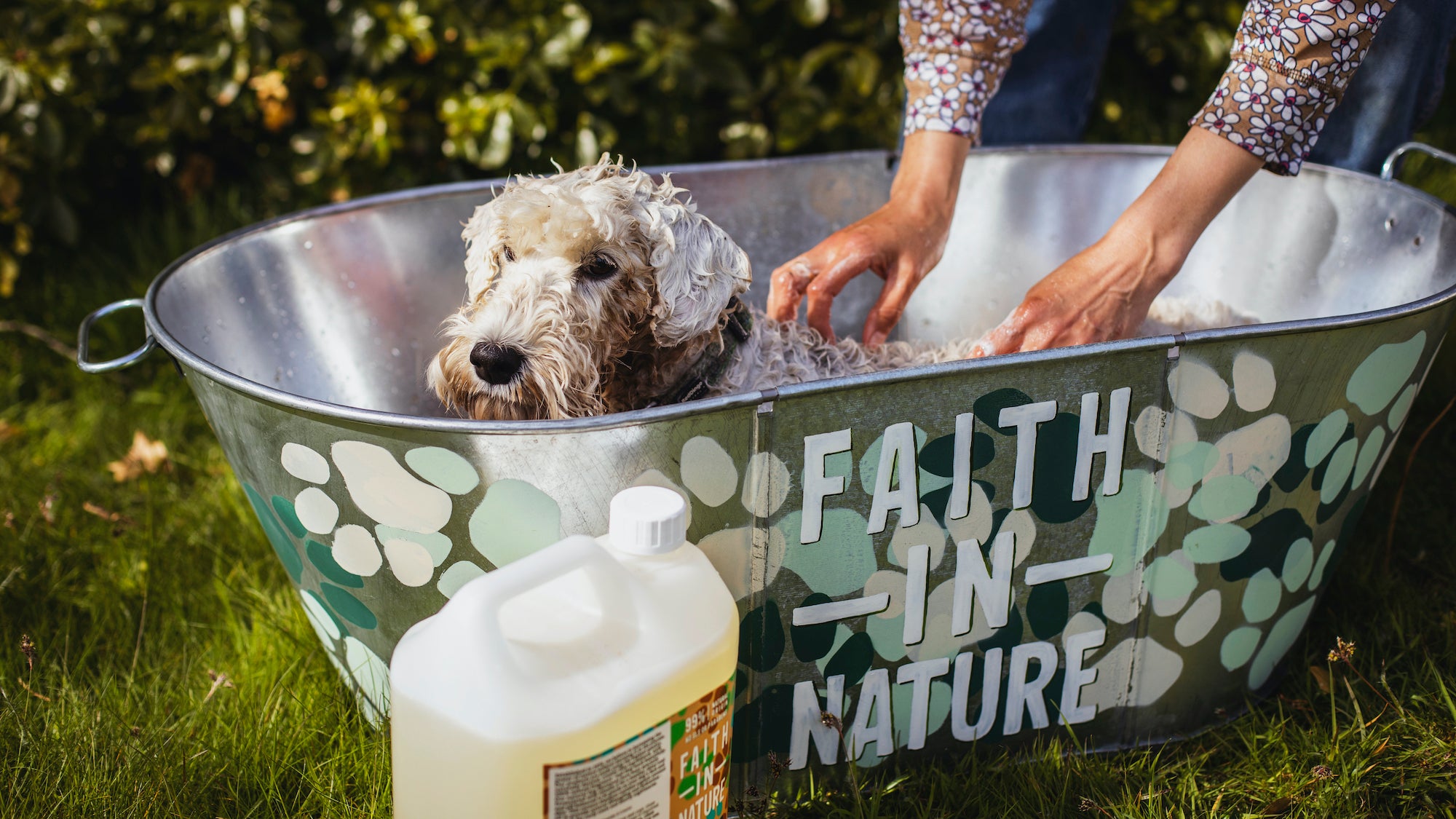 18, February 2022
5 Ways To Keep Dogs Calm At Bath Time
Walkies. Also known as the best time of the day. When our four-legged friends get to roam (and roll) around in nature, taking in all the sights, sounds and smells. Bliss. But when it's time to scrub-up your mucky pups, things can get a little tricky. We
could
say our gently cleansing,
vegan dog shampoo
will turn floofy frowns upside down, but we know bath time is much more of a balancing act. With a little help and wisdom from our Instagram followers, here are some ways to keep tails wagging when washies come around. 


That's Nuts 
We asked, you answered. You told us that bathtub tantrums could be turned around with the humble power of peanut butter. Who knew? Just smear it inside the tub for a delicious distraction. It's a good idea to start them off early, so bath time will become treat time, and regularly rewarding washies can keep future wobbles at bay. 


Who's A Good Pup?
It might sound obvious, but piling on the praise and positive reinforcement will work wonders for washies. Take baby steps toward the tub with treats and cuddles along the way, then keep it up when the taps go on. 
Get To Grips
Slippery bathroom surfaces can be a big source of stress, making your dog feel anxious and unstable. Pop down plenty of towels to stop them sliding around on the tiles, or pick up a non-slip bath mat for inside the tub or shower floor. 


Bring The Fun 
Appeal to their playful side with some of your dog's favourite (water-friendly) toys. We say the more distractions the merrier, especially for nervous little bathers. 

Make It Musical
Some of you told us you sing to your dogs, which we think is amazing. But if vocals aren't your strong point, there's something to be said for simply turning on the tunes at bath time. Classical music is known to keep our canine friends calm and collected, but other genres like reggae and soft rock can be just as soothing.

Gently Does It
Did you know your dog's skin is way more sensitive than yours? Always choose mild, non-irritating dog shampoo to calm, cleanse and nourish. Faith In Nature dog shampoo is carefully pH-balanced and made with no parabens or SLS, so there are no nasty surprises. We formulate our products with naturally derived essential oils and Vitamin E to keep their coats shiny, conditioned and smelling amazing. Choose between three relaxing scents:
chamomile
– perfect for sensitive dogs and puppies,
lavender
for a deeply deodorising cleanse, or
coconut
to smooth and detangle curly coats and knotty nightmares. 


Enjoy This? You Might Also Like: