Back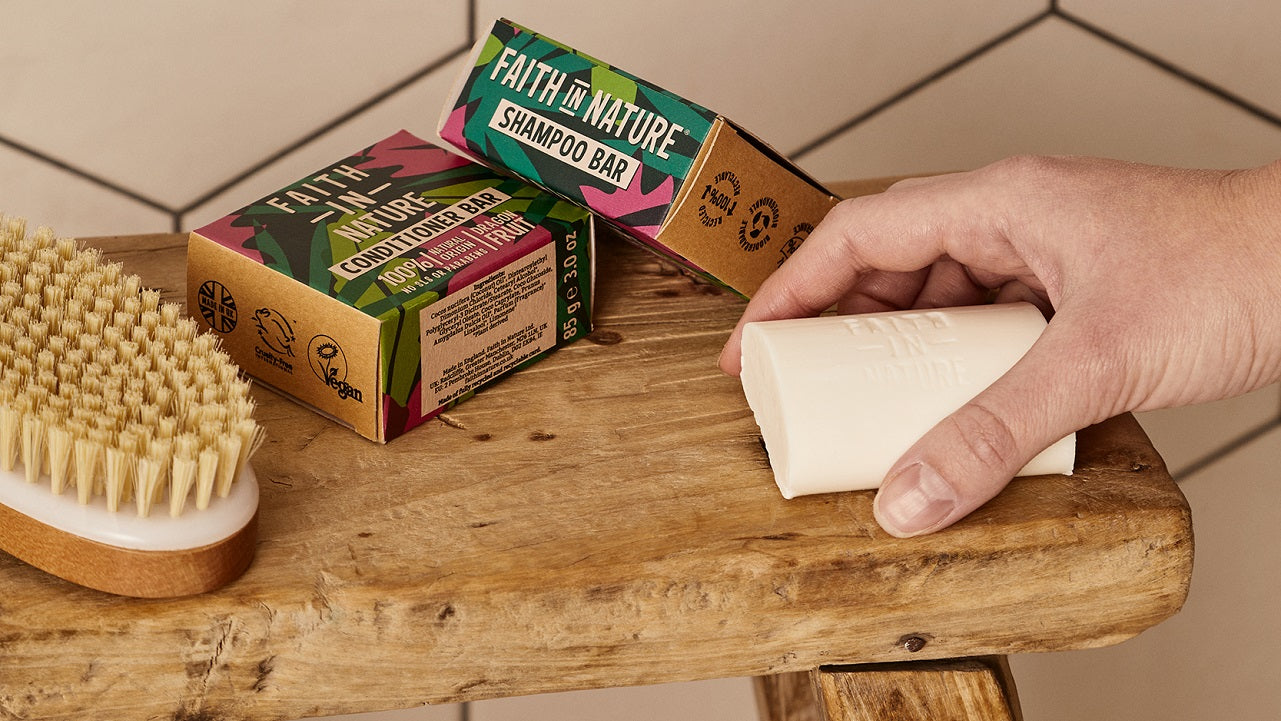 19, July 2023
Why Use a Plastic-Free Shampoo Bar?
If you're happy with your regular shampoo, why on earth would you want to swap your trusty bottle for a bar? Actually, it's got a lot to do with the earth. There are so many reasons why using a shampoo bar is better, for the planet and for you and your locks. Plastic Free July is the perfect opportunity to give zero waste haircare a go. Hopefully, you'll get the shampoo bar bug and never go back to bottles. Need a little more convincing? Read on.
SHAMPOO BAR BENEFITS
"Hey, what would Nature say?" – it's a question we ask nearly every day. So, what would Nature say about shampoo and conditioner bars? We think it'd say they're a brilliant invention, because they're good for the planet in so many ways.
Switching traditional shampoo with zero waste haircare bars massively reduces the amount of plastic bottles cluttering your bathroom – and the world. A 2021 survey found that UK bathrooms were home to 152 tonnes of empty plastic bottles. Sadly, not all of the plastic we put into our recycling bins gets recycled, so cutting down on the plastic we use in our day-to-day massively cuts down on landfill.
Our shampoo bars are packed in 100% recyclable and recycled card, with absolutely no plastic packaging. And they're manufactured with lots less water than traditional shampoo. Not only does this save precious H20, it makes transporting the product way more efficient, saving energy too.
Speaking of transportation, shampoo bars are really handy to have when it comes to travelling. They weigh less and take up less space than full-size bottles, plus they're solid, so don't count towards any liquid restrictions when flying. Imagine not having to cram shampoo and conditioner into those clear bags at airport security. And if you're packing ultra-light, you can slice the end off your shampoo bar to create your own instant mini.
We formulate zero waste haircare range to be just as effective as our bottled shampoo and conditioner. The bars are made with 100% natural origin ingredients and are completely free of parabens, silicones and SLS. And it goes without saying that they're vegan and cruelty-free.
Just like the rest of our products, the bars are made with amazing-smelling natural origin aromas, so you can enjoy a little aromatherapy when you wash your hair. These blocks of haircare goodness come in a range of formulas, including juicy Dragon Fruit and curly hair favourite Shea & Argan. We even make a shampoo bar for dogs!
Like anything new, shampoo bars can take some getting used to, but we've already written some blogs to help you with the transition: Switching to Shampoo Bars (and What to Expect) will equip you with the knowledge you need before you begin your new planet-friendly haircare routine. How to Use Shampoo Bars (and Where to Store Them), meanwhile, is your practical guide to getting to grips with your new bars – and how best to keep them.
Ready to give plastic-free haircare a whirl? Choose your favourite aroma from our range of shampoo and conditioner bars today. Nature will thank you tomorrow.