Back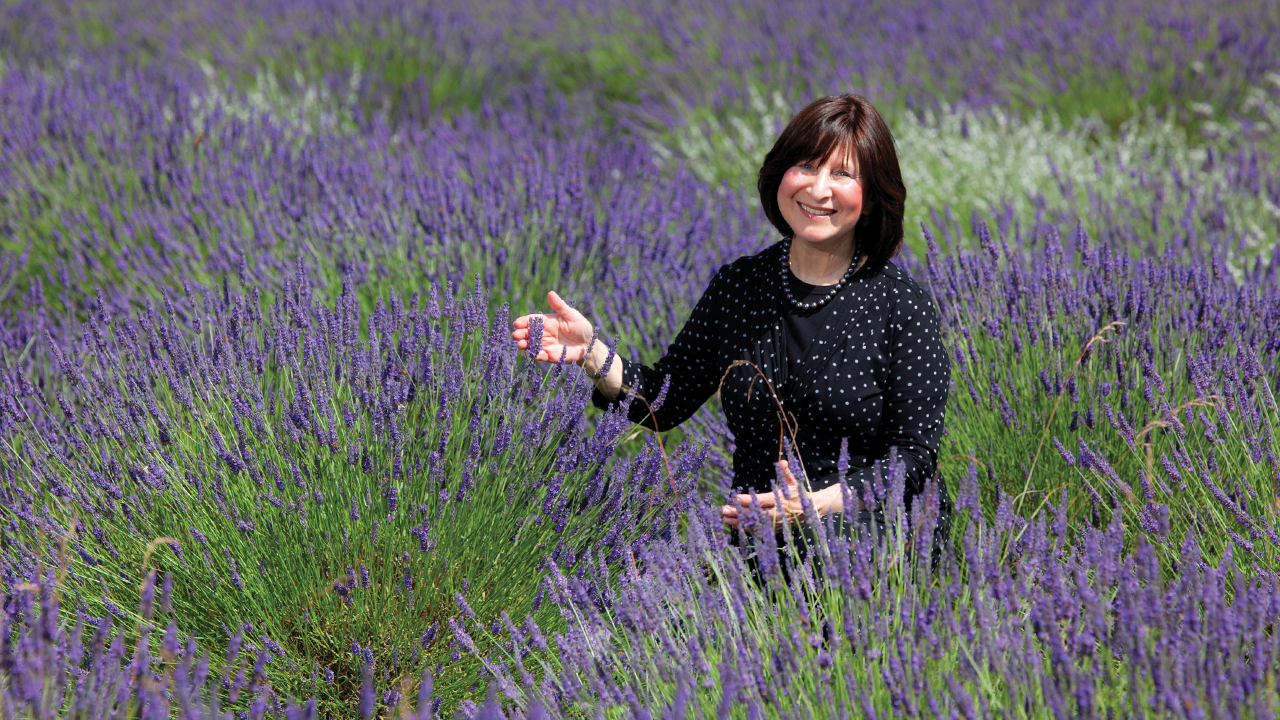 8, March 2023
Our Founder's Faith In Nature
Rivka Rose founded Faith In Nature in 1974 when she was in her early twenties. Almost 50 years later, we talk to her about what her success and the growth of Faith In Nature mean to her.
When I speak to Rivka, she's taking a break from doing what she loves most: blending essential oils to create a new aroma. Was this always what she wanted to do?
"I studied psychology and sociology and did fieldwork in those areas, so I thought that was the direction my career would take. But as a young child, I'd had this affinity with plants."
Growing up in New York, Rivka wasn't exactly surrounded by greenery, but she became fascinated by avocado seeds. She would buy the exotic fruit from the grocery store, plant the seeds and watch them grow into saplings on her windowsill.
"As a young child, I'd had this affinity with plants."
After studying, Rivka lived for a summer in Canada before moving to California. In these places, she was reminded of her strong connection to plants – and the intuition was stronger than ever.
"I was fascinated by the different ways in which plants could help ailments," she says. "There were very few books on the topic at the time, but I researched and read what was out there over and over again, memorising the names of plants and their uses."
Is this how Faith In Nature began?
"I started out making things for myself, mainly herbal ointments. I was young but my skin was very dry and I wanted to take good care of it. I wanted to make products that were as good as they could be. In those very early days they weren't very sophisticated but quite raw and rough and ready – some stained my bedsheets and clothes! But they were effective; they did what they were supposed to do."
How did Rivka get from these 'rough and ready' products to ones she could sell to others?
"Focusing on my passion and devoting myself to it. As well as reading about the plants and their benefits, I developed an understanding of emulsions and how to blend. Gradually, with time and experience, my formulas got better and better. Then I sold some jewellery to raise the money to buy enough ingredients to start a business."
The first products Rivka made to sell were for the face.
"I met an amazing woman artist," she recalls, "and she drew all the illustrations for the first ever boxes."
How Rivka go about selling the products?
"I knocked on health store doors. I had this young, pioneering energy. I didn't understand the intrinsic needs of a new business, but I really believed in the product. So I just went for it, big time."
Luckily for Rivka, the owners of those health stores were impressed by her wares.
"They were just so pleased to be offered something so different to what was already out there at the time. Something natural, that worked. And I always wanted the price to be accessible, because I wanted as many people as possible to have these beneficial products in their grasp. That's still very important to me and the company now."
"I had this young, pioneering energy... I just went for it, big time."
It's wonderful to see how far Faith In Nature has come since such humble beginnings. I ask Rivka what she believes is the secret to her success.
"Everyone has their own unique and intrinsic talent. It's about discovering what yours is and focusing on developing it. You do need a lot of confidence and guts."
Did Rivka's enthusiasm for natural products override any lack of confidence she might have had about starting a business at such a young age?
"When you're young and you're passionate and you can think you can do anything you do. Success comes from that kind of focus and passion."
And it's patently obvious that Rivka is very passionate about what she does, given the fact she's still doing it nearly 50 years after she sold that jewellery.
"It's so important to love what you're doing," she says, "when you're in business, you have to do something you love. You spend so many of your hours engaged to it. If it's fun, you can get really into it."
For Rivka, loving what she is doing is not just about having fun in the process, but about how rewarding the end result can be.
"A big motivator for me, from the very beginning, is that my products really work and help people. I've always wanted to do something meaningful and real. Otherwise, what's the point?"
Speaking of the products, what is Rivka's favourite from Faith In Nature's range today?
"I LOVE the Wild Rose scent!" she says, "But also Lavender & Geranium – that one's been around for a long time and people still love it. And Shea & Argan and Grapefruit & Orange; they're both beautiful blends."
And how does she feel about being a woman in business?
"It's a privilege to be a woman and be successful in my field. Everyone has to find their work / life balance in order to succeed. And often (but not always) women have more caregiving responsibilities than men. When my children were young, I still stayed very involved in the business, and found myself working evenings to catch up with things. But I adapted to that time in my life. I think women are very good at multi-tasking!"
What advice would Rivka give to women thinking of starting their own business?
"It's important for women to find within themselves their true talents and passions, in order to feel fulfilled. Success comes from believing in yourself, being focused and giving your passion time and energy. Every woman has the ability in her to be as good as she can be, no matter what she is doing.  She doesn't have to be an entrepreneur."
With just one year to go until the company celebrates its 50th anniversary, I wonder what 1974 Rivka would think about 2023 Faith In Nature?
"Fab!" Rivka beams, "50 years on and I am still excited about what we do, still developing blends. It's such an exciting time, with us appointing Nature to the board. And combining essential oils to smell elegant and infatuating, using ingredients that not only smell great but do great things to people's skin – it's a fulfilment of a mission."